How to buy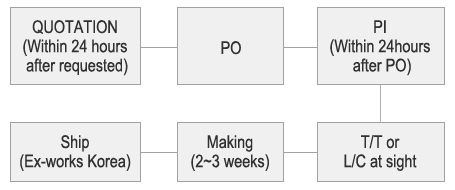 1. We'll send you formal quotation within 24hours.
(But it is same on the listed. If the amount is over U$ 10,000, it can be extra cost down a little.)
2. Please let us know your order by e-mail or fax.
3. We'll issue the PI. If so, please return it after your signature.
4. We need your payment then.
T/T or L/C at sight are only acceptable.
5. If we have stock, we'll ship in 1 or 2days. Otherwise, it usually takes 2 or 3weeks.
6. We'll ship to you by courir, EMS or ocean, etc whatever you want.
But the shipping condition is ex-works.